Listed infrastructure is a popular income solution for many. This is due to its track record of consistently delivering a higher yield compared to global equities and 10-year bonds. In creating listed infrastructure income portfolios, Portfolio Managers need to consider the following fundamentals.
Firstly, whether an absolute total return (in excess of the return hurdle) can be achieved over time. In other words, income targets should not be at the expense of long-term total return.
Secondly, whether the portfolio will sustainably produce income through a full market cycle. Usually, a company's exposure to the business cycle is intrinsically linked to their earnings, profits and dividends.
The stability of income can be evaluated by looking at the predictability of a company's cash flows over time - the relationship between cash flow, the company's capital structure and its strategy for distributing this cash will ultimately impact the dividends to investors.
In this way, infrastructure has an edge as a long term income solution. Revenues are generally linked to the asset base of these companies, rather than to the ups and downs of economic activity. This being the case, the quality of a company's assets and a detailed assessment of the regulation or contracts governing them needs to be front and centre to a Portfolio Manager's process.This is what delivers stable cash flow and greater capital stability. As demonstrated in the chart below, a growing asset base drives growth in dividend yields.
The RARE Infrastructure Income Strategy Annual Dividend over time (index =5)1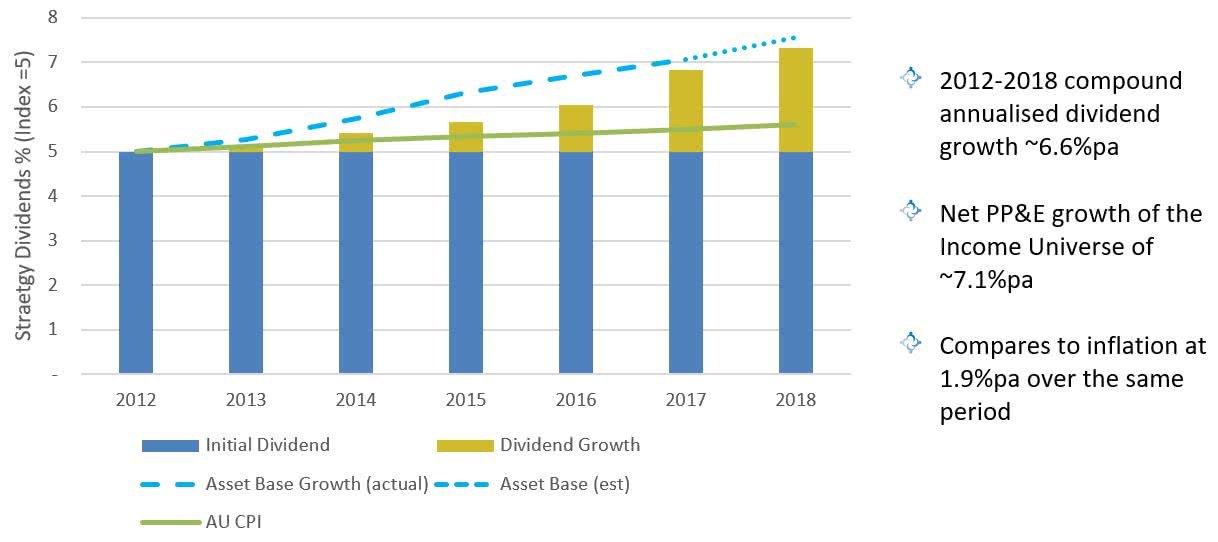 1 RARE calculations as at 31 December 2018
For investors, this can provide excellent visibility over revenues and dividends, particularly as we enter later stages of the economic cycle. To find out more, listen to Nick Langley, Co-CEO/Co-CIO at RARE, talk about the sustainability of yield when investing in infrastructure.